We take security seriously here at Kronologic. Our team works hard to protect your organization.
Gaining your trust is a point of pride, we preserve it by continuously exceeding industry standards.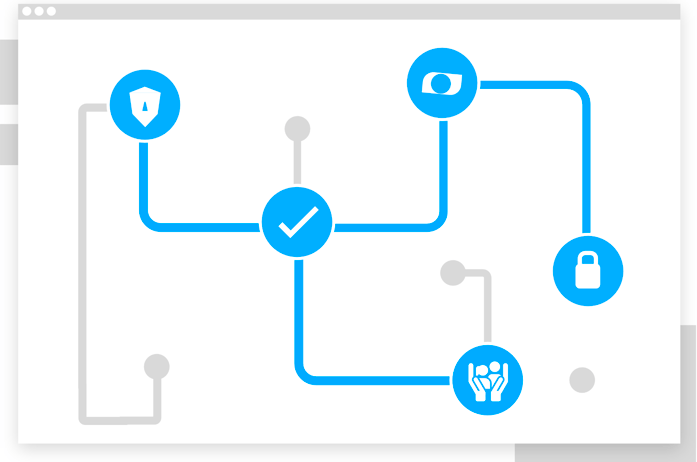 Compliance



Kronologic's use and transfer to any other app of information received from Google Accounts will adhere to Google API Services User Data Policy, including the Limited Use requirements

SOC 2 Type II & SOC 3 Compliant
Download Report
Security Features
| | |
| --- | --- |
| OAuth2 Authentication | ☑ |
| SOC 2 Type II, SOC 3 Compliant | ☑ |
| MFA Required to Access Production Environments | ☑ |
| All data is encrypted in transit and at rest | ☑ |
| RPO < 1 Hour | ☑ |
| RTO < 1 Hour | ☑ |
| Sensitive data is stored using Hardware Based Encryption | ☑ |
FAQs
"How are security best practices incorporated into Kronologic's SDLC?"

From it's inception, Kronologic's development has taken place in accordance with industry-leading security practices. This is driven by our CTO & Co-Founder, Chris Lee - the principal architect of numerous cybersecurity solutions used by some of the world's largest companies


"We do a lot of business in Europe and Canada, how does Kronologic help ensure we are compliant with the relevant privacy regulations in those regions?"
Among other best practices, the Kronologic platform is truly cloud native, meaning deploying Kronologic and housing all associated data "in country" is incorporated into our everyday implementation practices
Kronologic is considered a

Processor

under GDPR. As such, Kronologic can reference the opt-in/out preferences stored in your CRM for existing contacts before ever engaging & can update those preferences seamlessly should they change during the course of an engagement


"What type of data does my company need to share with Kronologic in order to be effective? Does Kronologic require access to sensitive PII?"
Kronologic requires access to contact information to be effective (email address, name, company, etc.) - we are a digital calendaring solution after all.
Kronologic

does not

require access to sensitive PII or financial/transaction data. Kronologic will never solicit access to sensitive PII


"So Kronologic will automatically engage and respond to emails I receive... does that mean Kronologic is reading all of my emails?"

NO! Kronologic is restricted to email conversations it has been directed to initiate. For example, if you direct Kronologic to schedule a meeting with Jill, only responses from Jill will be examined by Kronologic's NLP to determine how to best proceed.


"Does my Exchange or G Suite admin need to grant access to everyone's calendar and inbox?"
Absolutely not. Kronologic is enabled on a user-by-user basis
"What are the API scopes, methods and rationales Kronologic uses?"
Please review the relevant information for Salesforce here
Please review the relevant information for Office365 here
Please review the relevant information for Google here
Security Questions or Issues?